8 Easy Tips to Lowering Your Home Electric Bill and Making Your Air Conditioner Last Longer
Have you noticed how Minnesotan's love to complain about cold winter temperatures?  But we also love to complain about the heat — and that time is coming soon.
Air conditioning season will be upon us in about a month, are you prepared, or should I say is your central air conditioner prepared? As a Minnesota residential home inspector, based on what I find at the majority of homes I inspect I would have to say the answer is no.
This is a picture of an air conditioner condenser coil that I found at the last inspection I did in Minneapolis, Minnesota. As you can see it's dirty and this is without a doubt last year's dandelion and cottonwood debris. Most likely this was ran all last summer and can consume up to 35% more electricity to operate in this condition. The condenser coil is trying to get rid of heat, with the coils plugged up this is process is reduced resulting in your air conditioner running longer to cool your home.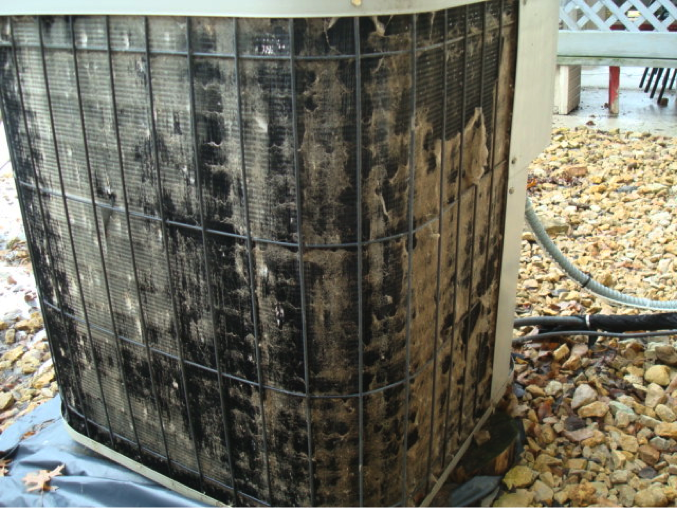 Cleaning the condenser coil is something you can do but don't just hose it off. Here are 8 easy tips you can do to lower your home energy bills, and protect the life of your air conditioner:
Disconnect the power, there should be an electrical disconnect box mounted on the house.
Remove the fan guard on the top of the unit.
Using a garden hose carefully spray off the coils from the inside out starting at the top working towards the bottom, do not bend the fins.
Rinse off the outside of the coils spraying downward to remove the rest of the debris, do your best to not push the debris back into the coils.
Rinse one more time from the inside out.
Replace the fan guard.
On some units you may have to remove the side covers.
Repeat this as needed throughout the summer.
Follow these tips, and keep your air conditioner humming all summer — and keep cool with lower electric bills too!
Pete Busch
MN Residential Home Inspector
Eagle Home Inspections